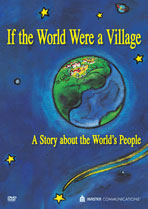 Award-winning DVD
Animated.
Approx. 25 min.
English, Spanish or French and English/Spanish/French Editions
Closed-captioned
All regions
Release date: September 2009
ISBN: 9781604800784
UPC: 690678008998
Price: $59.95
English Edition:
ISBN 9781604800821 $29.95
For Ages 7 & up
Grades 2 & up
K–12 Curriculum Connections:
Geography
Social Studies
Language Arts
Music
Science/ Environmental
Mathematics
Foreign Language Studies
Purchase Now
Spanish DVD $29.95
Si el mondo fuera una eldea
978164800838
French DVD $29.95
Si le monde etait un village
9781604800845
If the World Were a Village: A Story About the World's People DVD

Based on the best selling and award-winning book by the same title, If the World Were a Village is an animated story that delivers an important message using a magical metaphor: what if the world with six billion people were a village of just
100 people…

In this village:
- 22 people speak a Chinese dialect (and 9 people speak English)
- 20 earn less than a dollar a day
- 32 are of Christian faith
- 39 are under 19 years old.

If the World Were a Village offers a unique and objective resource. By exploring
the lives of the 100 villagers, children will discover that life in other nations
is often very different from their own. The shrunk-down statistics—some
surprising, some shocking—and David Smith's tips on building "worldmindedness" will encourage viewers to embrace the bigger picture and help them to establish their own place in the global village.
K–12 Curriculum Connections:
Geography, Social Studies, Language Arts, Music, Science/ Environmental, Math, and Foreign Language Studies

Teacher's Activity Guides
Lesson plans from Education World website
Lesson plan by Kids Can Press
| | |
| --- | --- |
| | Click to view sample clip of If the World Were a Village |
| | |
| | |
| | Click Here for a video clip of the Author, David J. Smith |
| | Sample Clip of If the World Were a Village in Spanish |
Reviews
4 stars out of 4: "If the World Were a Village is a valuable program that promotes
critical thinking about global issues, while also serving up an overall
positive message: we are, after all, a very big village, so it would benefit us
to think of other countries and cultures as next-door neighbors with whom
we should live in peace. Highly recommended. Editor's Choice."
–Video Librarian, Nov/Dec 2007

"Shelagh Armstrong's colorful acrylic illustrations translate well to the
screen, and the animation is well one. Background music adds to the telling.
A unique choice for units on community, geography, and global studies."
–School Library Journal, Sept. 2007
Awards
2009 Parents Choice Silver Award
2009 Kids First Endorsement
2006 Prix Jeunesse - International Finalist
2007 Alliance for Children & Television Award of Excellence
2007 Canadian Screenwriting Awards Winner
2006 Gemini Award Nominee, Best Direction
Book Awards (2003)
Independent Publisher Book Award winner - multicultural non-fiction
International Reading Association, Children's Book Award winner
CCBC Choices List
Nautilus Award winner, Children's Non-Fiction
Association of Booksellers for Children's ABC Choices Award Winner
International Reading Association's "Children's Choices" List
Parent's Guide Choice Award Winner
Notable Social Studies Trade Books for Young People
NAPPA - Children's Resources, Gold Award Winner
Book Reviews
"This highly informative books will get kids thinking and asking questions."
— Booklist, March 2002

"These days, the world seems to be getting smaller. This timely, unique book enhances that sentiment. It is useful for a current understanding of the world's population."
— School Library Journal, May 2002

"Thought-provoking and highly effective, this world-in-miniature will open eyes to a wider view of our planet and its human inhabitants."
— Horn Book Magazine, May 2002

"Unique format shrinks the world's population down to 100 and presents who we are, where we live, how fast we are growing, what languages we speak and more."
— ForeWord, April 2002